Samsung had a successful unpacked Galaxy S series smartphones and its first foldable phone – the Galaxy Fold. The Galaxy S products included – the Galaxy S10 and S10 Plus and the S10e and its first 5G Galaxy S10 Plusphone, which is set to be released in the second half of this year. Well, Samsung didn't just unveil the smartphones but also multiple accessories to accompany them as well. These accessories include the company's new Galaxy smartwatch along with fitness tracking devices and Galaxy Buds, first true wireless buds from Samsung.
Samsung Galaxy Watch Active
The Active makes use of a 1.1in 360 x 360 resolution display, which looks nice and colourful, and only comes in one size: 40mm. It does offer four colour choices – black, silver, pink, and blue – and has an array of strap colours.
Under the hood is an Exynos 9110 dual-core chip running at 1.15GHz, matched with 768MB of RAM and 4GB internal storage; hardly stunning specs but enough for a smartwatch.
While the watch is very much fitness-orientated, what with its heart rate, calorie burn, and other activity related tracking and features, Samsung did say it's a fully-fledged smartwatch, punctuating that point by saying it has more than 60,000 watch faces to choose from. And it'll work with Android 5.0 devices and above and iPhones iOS 9.0 or above. The new Galaxy Watch Active costs $199 and will be available for sale from next month.

Samsung Galaxy Fit and Galaxy Fit e
Galaxy Fit and Fit e smart bands can track even more activities than the watch 90 covering everything from rowing to an elliptical trainer. Both are water resistant and super lightweight (the Fit is 24g, the Fit e is just 15g).
Both have heart rate monitors and will track your sleep and stress levels. They don't run Tizen like the Watch, but you can still get alarms, calendar events and weather info from your phone.
The main difference between the two is the screen. The Galaxy Fit has a 0.95" color AMOLED with 120 x 240px resolution (282ppi). The Fit e settles for a smaller 0.74" black and white PMOLED with 64 x 128px resolution (193ppi).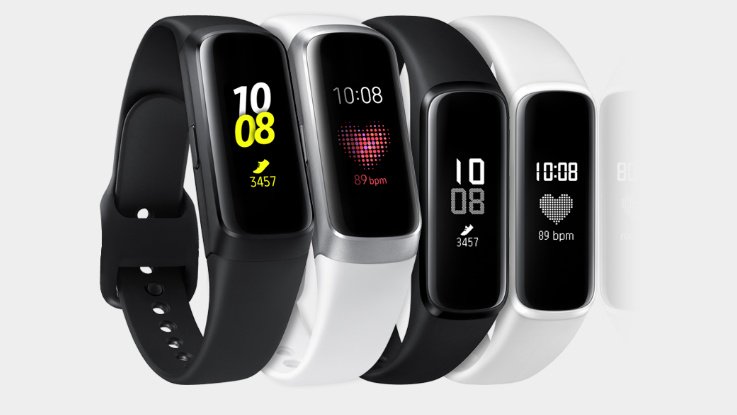 Samsung Galaxy Buds
Samsung has finally ventured into Bluetooth earbuds to compete against Apple's AirPods. The company had unveiled its first true wireless earbuds that come with a carrying case at the unpacked event today. These cord-free earbuds developed by Samsung are claimed to be truly comfortable form factor and come with say controls and also said to have a clear and smart sound.
The new Galaxy Buds from Samsung feature sound developed by AKG, which the company has been partnered for a while now. The Galaxy buds come with a bunch of features including Enhanced Ambient Sound, and an Adaptive Dual Microphone, which can be utilized in louder and quieter environments for taking and delivering your voice calls more clearly. These Galaxy Buds from Samsung are said to have Six hours of Bluetooth Streaming and uptown five hours of calls. The case that comes with them can add a charge for up to seven hours. The case can give 1.7 hours of backup for a quick 15-minute charge.

These Galaxy Buds can be charged wirelessly which also include the Wireless Power Sharing with the Galaxy S10 devices as well. These buds are integrated with Bixby support that further allows users to make calls, send texts and can quickly check the battery percentage of the buds as well. These Galaxy Buds will be available in Black, White and Yellow color variants.